Sunset Beach Estates Shell Beach California
This is one of two new developments being built in the Shell Beach area as of December 2015.  This development however is the only one located West of Highway 101. The other new development is Costa Azure being built out by Coastal Community Builders; please see the links section below for additional information for each. Both new development projects are in the breaking ground stages and will soon have structures built.  The Sunset Beach Estates Shell Beach California is located on the corner of Shell Beach Road and Ebb Tide Lane.  The parcel is about 4.5 acres and looks to feature 12 new single family residential lots, eight condominiums lots, a 30,000 sq. ft. park, and around 200 feet of ocean frontage.  Sunset Beach Estates LLC is the builder. I'm excited to see what great new homes and condos will be built out.
Below is the plat map that will help you gain an idea of the placement of the homes in relation to our beautiful coastline.  The weather in the Pismo Beach, Ca Central Coast makes this a great retreat from the high inland temperatures, see Weather.com and click the monthly tab to see current monthly and historical temperature ranges on the page.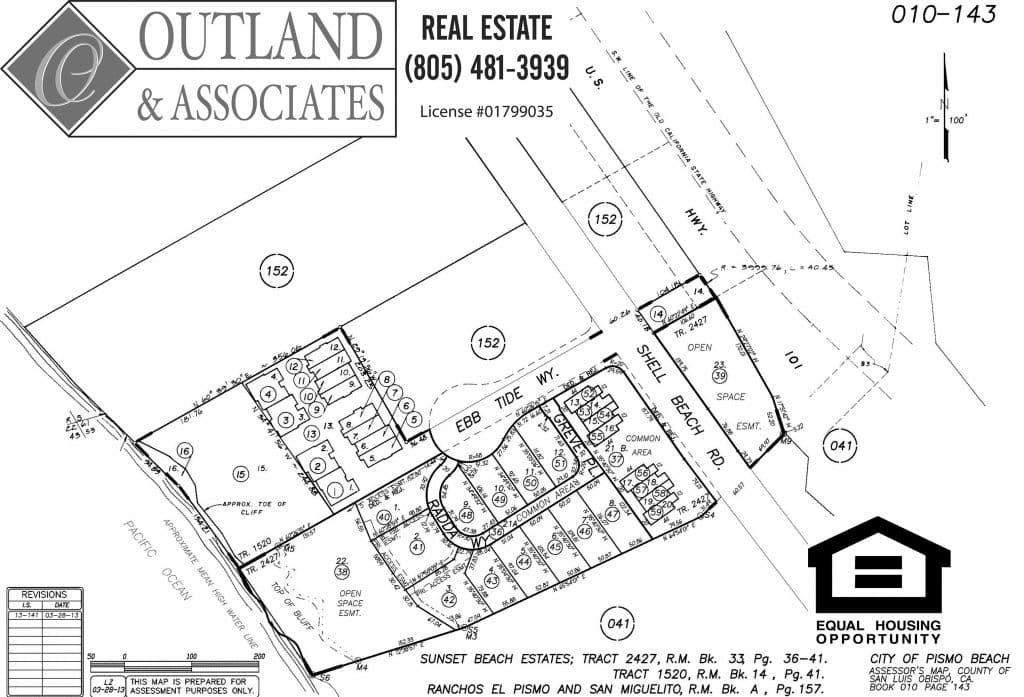 The new roads and streets in the development are Radda Way and Greve Place Pismo Beach, Ca. Earthwork is still being done so you can' t access these streets.
If you study the plat map just a bit for the new Sunset Beach Estates Shell Beach California new development you will notice that parcel 39 appears to now be designated as an open space easement, probably a view corridor for the Highway. When I get more information I will update this page.  If you would like to see Pismo Beach and overlays maps please click here
The area has great walking/biking trails with the Palisades Bluff Walkway and the Bob Jones Bike Trail conveniently located.  If you have not spent any time enjoying our beautiful Central Coast trails, please try to set time aside on your next trip.  If you like hiking please check out http://www.hikespeak.com/central-coast/, this is a site I have used for hikes to know the difficulty, views, and if they allow for pets.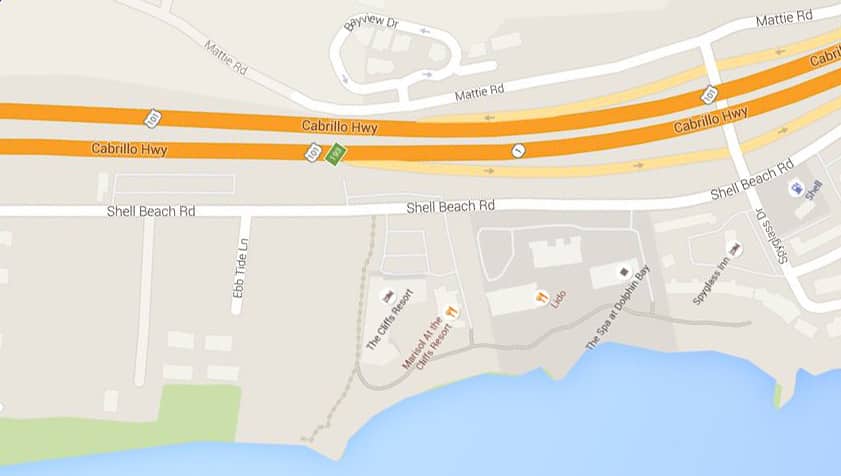 I do want to see the floor plans, design styles, and amenities these homes have to offer when they get built.  I would also like to see what ones will offer wonderful Pacific Ocean views and what price point they will be offering them at.   If you are moving to the Central Coast contact me so I can share with you all the latest new construction in the area and the homes being offered on the MLS for sale.  I want you to know all about the homes currently available so we can find you the right home for your needs.
The Shell Beach Real Estate market is a wonderful little community located in the Northern area of the city of Pismo Beach, Ca 93449.
#SunsetBeachEstates #ShellBeach #NewConstruction #NewHomes #GrevePlace #RaddaWay #OpenSpace #Condos #SingleFamily #PismoBeachRealEstate #OceanView #CentralCoast #JamesOutland #OutlandRealEstate #BRE01314390 #8054813939
If you are looking for Driving Directions to the property please try using the address 2770 Shell Beach Road Pismo Beach, Ca 93449 ( San Luis Obispo County,  Central Coast)  Google currently doesn't show the new roads as of December 2015.
Link Section:

     City of Pismo Beach Zoning
     Coastal Community Builders  "Costa Azure"
     HikesPeak.com
     Sunset Beach Estates "Lots"
     Sunset Beach Estates "Townhomes"
     United States Census 
     Weather.com
Local Track/ Developments/ Subdivisions:
The Bluffs At San Luis Bay
El Portal Drive and Indo Drive
Sunset Palisades
Green Dolphin Townhomes
Searidge Court Condos
Spindrift Village Townhomes
If you don't find what you're looking for please try this link or email, text, call, post below.
Shell Beach Real Estate Market Update.  Information is deemed reliable but subject to change as developments get built. – Created Dec. 2015, Update June 17th, 2016.
Shell Beach and Pismo Beach Homes For Sale
Author James Outland Jr.