Hidden Pines Estates Santa Maria California Central Coast Homes for Sale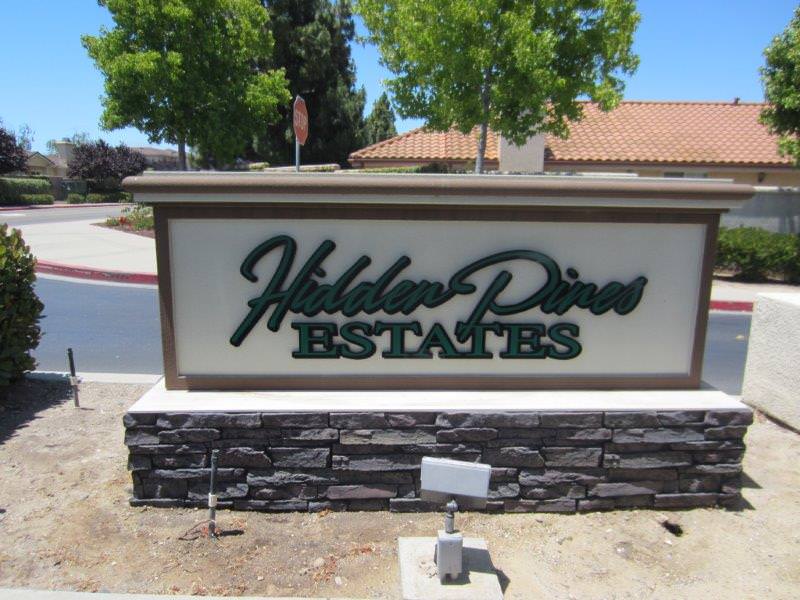 Hidden Pines Estates Santa Maria is a gated community located on the Northeast of Santa Maria that backs to the Santa Maria Riverbed.  Hidden Pine Estates contains 207 homes, with a mix of Single level and two-story single family homes. The community does feature a walking trail to the Essex subdivision to the south and the nice park located near the entrance of Gingko Court, however, if you are looking for a home to be close to a large park, just down the road is Preisker Park. Click this link to get more information on Preisker Park.  This Santa Maria gated community was built out between 1994 and 1999 however if you come across some older or newer homes on the internet it's probably because a few agents entered in the wrong year built for the development. I double checked the tax information to confirm.  Hidden Pines Estates has the following streets behind the gates: Acacia Street, Boxwood Street, Locust Street, Lilac Street, Ebony Street, Polar Street, Mayten Street, Gingko Court, and Hawthorn Street.
Great news for new home buyers, we currently have three available listings listed on the market for sale!  If you would like to view those current Hidden Pines homes go to my Santa Maria Real Estate link to view current homes for sale that include Santa Maria and Hidden Pines.
If you own a home in Hidden Pines I have great news for you as well.  The average days on market for a home in your development are now selling in less than 60 days. It's a seller's market in Santa Maria currently.  I can help you with the sale of your Hidden Pines home today, please visit www.FreeHouseQuotes.com to find out what your home could list for today.  Many of the sellers I have been involved with have used my web site get the sales process started.  I look forward to working with you and your Real Estate needs.
If you have any information for original floor plans or a brochure and would like to share to improve this page please email me at James@Outlandinc.com.    For help in Spanish email, me and I will have my Spanish Realtor get back with you. Thank you
PROP_ADDRESS
PROP_CITY, PROP_STATE
PROP_BEDS / PROP_BATHS
PROP_ACRES
PROP_PRICE
Details

Condo

Land

Mobile Home

Residential Income

Single Family

Townhouse
Multi Family

Ranch

Commercial

Fractional
Hidden Pines Estates Santa Maria Recently sold homes for 2015 – Central Coast Home that have sold
434 Hawthorn St Santa Maria 3 bedrooms 2 (2 0 0 0) baths 1320 sq. ft. built in 1997 sold for $313,900 on 05/22/15
531 Gingko Ct Santa Maria 3 bedrooms 2 (2 0 0 0) baths 1439 sq. ft. built in 1993 sold for $278,000 on 05/18/15
622 Gingko Santa Maria 3 bedrooms 2 (2 0 0 0) baths 1439 sq. ft. built in 1992 sold for $285,000 on 05/13/15
2442 Lilac St Santa Maria 4 bedrooms 3 (2 0 1 0) baths 1987 sq. ft. built in 1998 sold for $340,000 on 04/29/15
506 W Hawthorn St Santa Maria 4 bedrooms 3 (2 0 1 0) baths 1959 sq. ft. built in 1997 sold for $310,000 on 02/25/15
2439 Ebony Santa Maria 3 bedrooms 2 (2 0 0 0) baths 1200 sq. ft. built in 1999 sold for $250,000 on 01/13/15
2419 Ebony St Santa Maria 4 bedrooms 3 (2 0 1 0) baths 1810 sq. ft. built in 1997 sold for $325,000 on 01/09/15
Other developments in Northern Santa Maria include: Essex at Willow Creek, NewCastle at Willow Creek, Parkside, Cherry Blossom Ranch, Regency Estates, Preisker Gardens, and Riverside Court
My service area is Pismo Beach, Arroyo Grande, Shell Beach,  Avila Beach, San Luis Obispo and beyond.  I have sold hundreds of homes in San Luis Obispo and North Santa Barbara County.
#HiddenPinesEstates #SantaMaria #GatedCommunity #HiddenPinesEstatesSantaMaria #SantaMariaRealtor #Outlandandassociates #JamesOutlandJr #Realtor #RealEstateAgent #FreeHouseQuotes
My Social Sites:   Google+             Facebook            Linked In              YouTube Channel
Hidden Pines Estates Santa Maria — Real Estate Market Update July 2015
Author James Outland Jr.
---