Oak Park Leisure Garden Arroyo Grande California

Directions: From Highway 101 take exit 188 then either follow El Camino Real East or West Branch St West to Oak Park Blvd. Follow Oak Park Blvd North to James Way. Follow James Way to Leisure Drive and the entrance to Oak Park Leisure Garden Arroyo Grande California.
Distance to other local Communities:    Paso Robles – 46 miles, San Luis Obispo – 15.5 miles, Nipomo – 10 miles, Santa Maria – 18.5 miles, Santa Barbara – 80 miles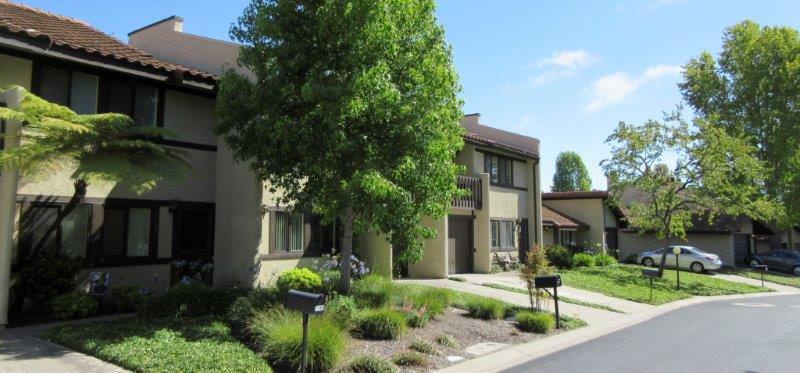 Near Shopping: Oak Park Leisure Gardens Arroyo Grande is just minutes away from the Walmart shopping center, Kmart, Trader Joe's, Chili's, OSH, and several more stores and restaurants.
School District:  Lucia Mar Unified School District, please visit the link for the current residential boundaries for Elementary, Junior Highs and High schools.
The Oak Park Leisure Garden Arroyo Grande is track number 672 and was recorded on September 1st 1979. The number of parcels in the development total 117.   The Leisure Garden homes were built between 1979 and 1984. The development was split between Phase A and Phase B (See Map Below or attached PDF full size). The homes in this development can range from 1 Bedroom 703 Sq. Ft., or 2 bedrooms with one or two full baths that are around 900-1323 Sq. Ft. The homes on the south side of Meadow Way have a nice buffer of trees behind them currently for a bit of privacy.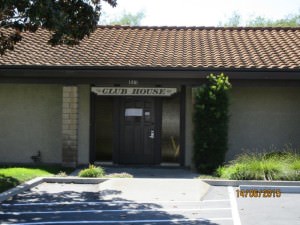 The Development does allow for pets like cats and dogs however other restrictions may apply.  Any vehicle over 1 ton may not be able to be parked or stored unless in a location designated by the association. The restrictions shall not prohibit commercial and construction vehicles from making deliveries or providing service to properties. The Oak Park Leisure Garden also has restrictions on boats and campers, if you have one these please ask to view a copy of the CCRS. Please note according to Exhibit B of the CCRS dated April 16th 1987 that reads on occupancy: the qualifying resident of each unit must be at least 55 years of age. If any persons are under the age of 45 they are limited to no more than 60 days of temporary residency in a calendar year.
Yes, Oak Parks Leisure Gardens currently has an HOA in the amount of $175.00 paid monthly; it takes care of the clubhouse, property management, common area, exterior maintenance, insurance, and sauna.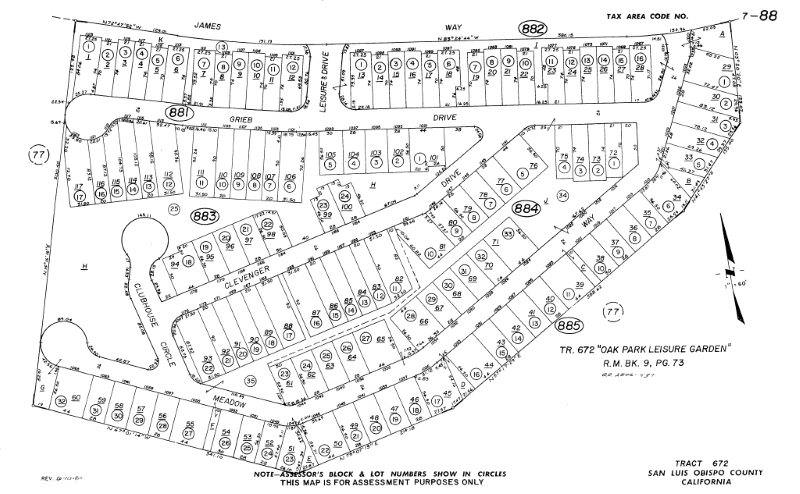 If you are looking to buy a condo in the complex the good news is the number of homes and the average number of homes makes it likely a home will be on the market or will be on the market soon.  If you are looking to buy a Oak Park Leisure Garden homes it's best to get qualified with a lender to be ready to go as the average days on the market for the current listings is 2 and 10 days, with an average selling time of under 60 days.  To view a local list of Lenders please visit or talk with your preferred lender.  If you are looking to buy an Arroyo Grande home please visit www.JamesOutland.net and go to the property search page for Arroyo Grande homes for sale.
PROP_ADDRESS
PROP_CITY, PROP_STATE
PROP_BEDS / PROP_BATHS
PROP_ACRES
PROP_PRICE
Details

Commercial

Condo

Land

Mobile Home
Multi Family

Ranch

Residential Income

Single Family

Townhouse
Recent Solds homes in the Oak Park Leisure Garden complex for 2015 as of July/07/2015
1055 Meadow Arroyo Grande Ca, 93420 1 Bedroom 1 Bath 703 Sq. Ft. 1979 Year Built Sold for $280,000 On 04/17/15
1141 Clevenger Dr Arroyo Grande Ca, 93420 1 Bedroom 1 Bath 703 Sq. Ft. 1983 Year Built Sold for $285,000 on 03/27/15
1033 Meadow Way Arroyo Grande Ca, 93420 1 Bedroom 1 Bath 703 Sq. Ft. 1980 Year Built Sold for $278,900 on 01/30/15
1143 Clevenger Dr Arroyo Grande Ca, 93420 2 Bedrooms 3 (1 1 1 0) Baths 1312 Sq. Ft. 1984 Year Built Sold for $332,500 on 01/05/15
The Streets in Leisure Gardens Arroyo Grande are Leisure Drive, Grieb Drive, Clevenger Drive, Meadow Way, and Clubhouse Drive
My Social Sites:             Facebook            LinkedIn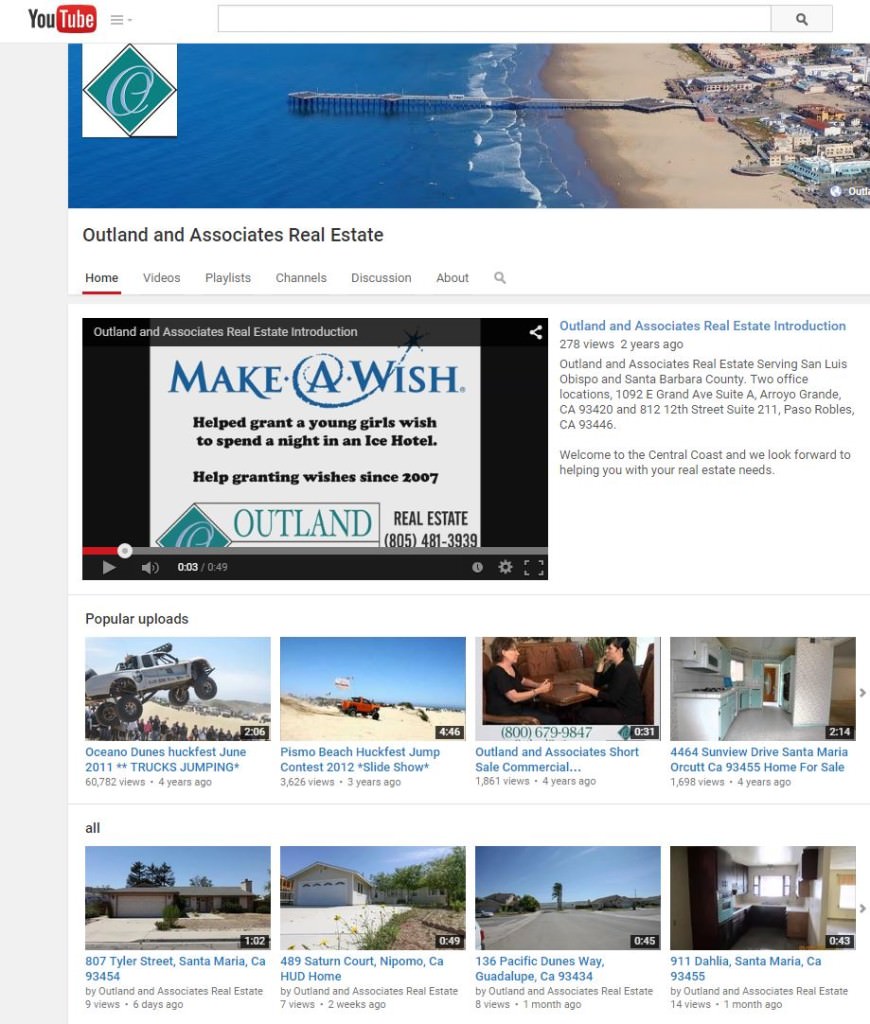 Arroyo Grande Real Estate subdivisions in the area include Equestrian, Highland, Village Glen, Royal Oaks Estates Patio Homes, Royal Oaks Single Family, Grace Lane, Oak Park Villas, Rancho Grande, Los Robles De Rancho Grande, Las Jollas De Rancho Grande
#ArroyoGrande #ArroyoGrandeHomesforSale #Homesforsale #RealEstate #Realtor #JamesOutland #OutlandandAssociates #SellMyHouse #Whatismyhomeworth
Oak Park Leisure Gardens PUD Homes in Arroyo Grande Ca Real Estate Market Update – July 2015
My service are includes Arroyo Grande, Pismo Beach, Avila Beach, San Luis Obispo,  Los Osos, Morro Bay, Grover Beach, Oceano, Nipomo, and North Santa Barbara County
James Outland Jr
---